Weekly Summary – 146 miles in 14 runs. A fantastic week with 3 excellent workouts and great consistency in mileage and recovery. Less than 6 weeks to CIM!
Don't forget to follow me on Instagram and Twitter (@TylerCAndrews). And, of course, don't forget to check out STRIVE's 2018 Programs – dates and programs are now up! You can come do service work and train with me in Peru or Kenya and for the summer of 2018, we'll once again have programs for High School and College students, and even 10-day trips for adults and families, so be sure to take a look if you're interested in an amazing summer experience! Finally, I have a few spots open for athletes looking for custom training plans and online coaching. Check out my site and email me if you're interested!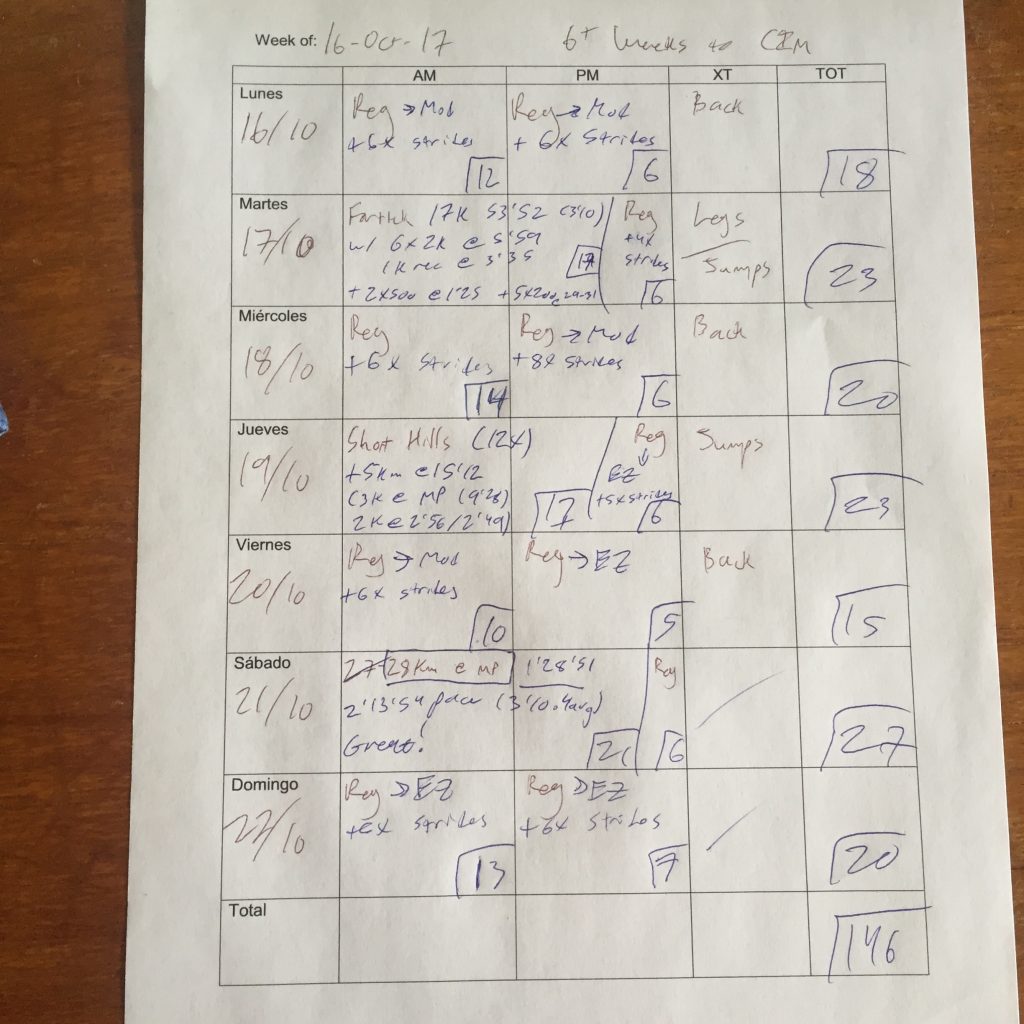 Lunes, 16 de Octubre, 2017 – 8:30am: Slept much better last night but still very long. This is the most I've ever slept in a week probably. Running is feeling great though, so maybe this is just what the body needs. Ran on Matt's loop. Cooler today, only about 60F and windy. Felt good, very relaxed, 37' at 8km and then under 4'20s on the way back with the wind. Finished at turf with .5km in 2'00 and then 6x strides which felt great. Easy home. Total run 20km in 1h31.
XT: Back/hips (added the final ankle weight)
3:30pm: Easy run down to turf. Cooler out and very windy – first run where I might have under-dressed as it was much warmer in our sunny apartment. Legs felt good out the door – maybe I was running faster to stay warm. Ran down to the turf and 6km there with the last 2km in 7'33 (starting around 4'10/km). Stopped and did 6x strides. Felt excellent – nice tailwind on the strides. Ran home. Total run 10km++ in 41'.
Martes, 17 de Octubre, 2017 – Sparknotes: 17km in 53'52 (3'10.1 avg) w/ 6x 2K @ 5'59, 1K rec @ 3'35. 2x500m @ 1'25-26 (1'30 jog), 5x200m @ 29-31 (200m jog).
9am: Fartlek day and – as Jon said earlier – a perfect day for fast running. 48F, a beautiful, crisp fall morning with a light breeze off the river. Goal today was a continuous fartlek trying to run 2Ks in about 6'00 with some faster running at the end. I'd done a similar workout at the beginning of the block and had struggled, running only 5x2K at 6'04. I hoped to do 6x today and keep them at 6'00 or a bit quicker.
Warmed up easy and a bit longer than usual as it was (to me) so cold, about 5km total mostly on the 1K loop where I'd do the workout. Legs felt quite good after a few km and was running under 4'00/km by the end. Did drills, a few more strides than usual (5x) and then 200m in 34.x which felt very relaxed.
Workout went super well. First rep was very comfortable and ran conservatively to run 6'04. After that, I decided it felt too easy and I might as well go for it and really focused on running 35.x every 200m. The first one felt like a bit of a chore to really focus as I was checking my pace like every 200m, but it was very consistent, 35/71/2'23/2'59… I didn't split my watch after the first rep but each one was very similar, i.e. splitting within 1 sec of each km.
This one definitely took some mental fortitude to get through as the back half of the workout felt quite tough. I really tried to say within each rep and not think too far ahead and did a really great job with this. I had thought I would be able to push the last rep and maybe run like 2'58/2'54 or something, but that rep really hurt. I had a lot of negative feedback from the mind saying "please stop!" or "maybe just 1K!" and I had to really picture myself in that last 1K of a marathon and convince myself that those extra 3 minutes of running were worth the short term suffering for the long term gain.
And they definitely were, as that was a fantastic way to finish the fartlek and a huge confidence booster to overcome that self-doubt and hang on all the way to the end. I didn't have the big close that I'd hoped for, but this was even better in a lot of ways as I reminded myself what it's like to really push and surprise yourself.
I took a couple minutes to change into tracers (flats) and then did 2x500m with 90 sec jog in 1'26.3, 1'24.8. I would normally have tacked these on the end of the fartlek and done it continuous but the truth is I was pretty worked after that last 2K (and I wanted to do some running in the flats).
Finished with 5x200m (with a gentle tailwind) 29.6-33.1 (very relaxed on that last one). Very good. Jogged short cooldown to the gym for lifting.
Very, very pleased with this one. I'm really on a great up-streak right now and this is the most important time to be feeling good. I feel like this buildup is as good if not better than my Lake Biwa buildup AND at this time during that buildup I was injured post Houston Half and barely training. Now I'm hitting my best workouts of the buildup and – knock, knock – managing to stay healthy. I've got 6.5 weeks to CIM and 5 really big workouts left. I'm feeling both excited and cautiously optimistic as we head into the thick of it.
Total run 27km.
Splits
Time Split HR
1 km 3'01.4 (3'01.4) 163
2 km 6'04.0 (3'02.6) 167
3 km 9'37.8 (3'33.8) 163
5 km 15'36.7 (5'58.9) 175
6 km 19'10.8 (3'34.1) 168
8 km 25'09.5 (5'58.7) 175
9 km 28'43.8 (3'34.3) 169
11 km 34'43.3 (5'59.5) 176
12 km 38'19.4 (3'36.1) 170
14 km 44'18.9 (5'59.5) 177
15 km 47'53.7 (3'34.8) 171
17 km 53'52.5 (5'58.8) 180
Total avg: 3'10.1
Avg on: 2'59.9
Avg off: 3'34.6
2x500m: 1'26.3, 1'24.8 (90 sec jog)
5x200m: 30.8, 31.4, 31.2, 29.6, 33.1 (200m jog)
XT: Legs at the gym. 3 sets of [step ups 6x (40, 50, 60lb), 6x overhead lunge (30 lb), 6x dynamic lunge (40, 50, 60 lb), 6x squat (70, 90, 100 lb)]
3pm: Good nap and relatively short turnaround. Calves were a bit toasted but otherwise felt pretty decent. Ran down to turf and 6km on the turf in ~27' (~4'30/km). Stopped and did 4x strides pretty gentle just to open the legs up and then ran home, grabbed my backpack and jogged over to costco to get some groceries, parking lot ethio, grocery shopping, then walked home. Total run 10.5km in 49'.
Miercoles, 18 de Octubre, 2017 – 9am: Easy run on Matt's loop. Start out nice and slow and picked it up to 4'20s by the end. Colder this morning again, only in the upper 40s! Tights day. Finished with 2km on the turf and then 6x strides. Total run 22km in 1h42.
XT: Back/hips
3:30pm: Easy run down to the fields. Felt good and running 4'30->4'0x. Finished with strides (8x) on the gravel sidewalk since I was getting kicked off the fields by some frisbee hooligans. Total run 10km++ in 45'.
Jueves, 19 de Octubre, 2017 – Sparknotes: 11km + 12x short hills + 5km in 15'12 w/ 3km @ MP (9'28), 2km fast (2'56, 2'49).
9am: Slept very well last night! Really amazed by how much I'm sleeping right now, but I'm feeling great on runs and well recovered between workouts, so as long as I have the time, I can't complain.
Short hills day, so started with nice long warm-up, 11km in 44' with a bunch on the turf and then picked up tracers on the way to the hill. Stopped and did drills and a couple accelerations and then onto the hill.
Same as last week, so ran all the way to the crosswalk which takes about 16.x seconds (as opposed to 13.x seconds earlier in the block the the end of the double-yellow). 12x felt very good and HR was coming down much quicker today, so much so, in fact, that there were times where my HR was <120 but I actually waited a bit longer to feel like I was really ready to go. This has almost never happened! Felt very strong all the way through and finished with #12 all the way to the hydrant in 36.0.
Jogged over to 1K loop and (still in tracers) ran 5km continuous with the goal being first 3K at MP and next 2K quicker (I figured perfect would be 2'55/2'50).
First 3K felt fine, if a bit muscularly fatigued from the hills and long time on feet at that point. Tried to start pushing a bit at the end of the 3rd km coming around the last corner ~820m instead of making one big move right at 3K, but still felt like a big jump trying to go from 3'10 to 2'55. Ran like 35.x/70.x but didn't think I had another gear. Came through in 2'56 and surprised myself in the last K that I really had a much higher turnover (watch had it as 198 SPM). Another very good mental session of getting to that 500m corner and feeling pretty uncomfortable already but telling myself that another <90 seconds was endurable. Very good.
Total then was 15'12 (9'28, 2'56, 2'49), so almost perfect in terms of what I wanted to do.
Changed back into trainers and cooled down over to the turf longer ~5km as tomorrow will be light.
Total run 28km in 2h01.
Splits:
1 km 3'10.1 (3'10.1) 160
2 km 6'21.0 (3'10.9) 170
3 km 9'28.3 (3'07.3) 173
4 km 12'24.2 (2'55.9) 178
5 km 15'12.9 (2'48.7) 182
3:30pm: Easy run down to turf which was occupied so ran to HAR and 1 loop in 18'20 and then on the grass at Eads park, 5x strides and then home. Legs felt good, not too bad after the morning session. Recovery is really fantastic right now – in a great rhythm. 18'20 on the HAR loop is 4'22/km (~7'00/M) which is very good on a super hilly course. Really great to be able to comfortably run that pace after a morning session that was supposed to be relatively light, as it implies the work was really appropriate. Total run 10km in 46'.
XT: Jumps/Plyos: 15x squat jump, 15x box jump, 30x single leg side hop, 15x lunge jump.
Viernes, 20 de Octubre, 2017 – 9am: Easy, light day with a bigger workout tomorrow. Ran out/back on MVN. Nice day, not too cool. Finished at the turf and did 1km in 4'09 and then 6x strides which felt good. Ran home for 16km++ in 74'.
XT: Back/hip (1x)
5pm: Ran home from St. Alban's school after talking there. A bit of pedestrian dodging through Georgetown but otherwise felt good. Stopped in Rosslyn and took the train home. Total run 8km- in 35'.
Sabado, 21 de Octubre, 2017 – Sparknotes: 28km in 1'28'51 (3'10.4 avg), 2'13'54 pace. Fantastic!
5:15am. Woke up at 3:15am! Actually woke naturally before my alarm at 3:30am which was nice as I didn't feel too bad getting up and moving and had a few extra minutes of awake time before starting today's session. I had a strong black coffee around 3:30a along with a NV bar. I then sipped about 20oz of caffeinated nuun until it was go time around 5:15am.
This was probably the workout that I was most nervous about in this block. One reason is that I've been on an extremely consistent routine of waking up around 7:30am and running around 9am every day for the past two weeks or so. The one really botched workout I've had in this buildup was at the start of my second block where I was trying to do something way earlier than I was used to being awake; and today's workout would be similar as I had to catch a 10:30am flight to Boston to go to a friend's wedding tomorrow. It also felt like the hardest workout on paper of the block. For some reason the jump from 25k (my previously longest MP run) to 28K felt like a bigger jump than the others in the progression (18K-22K-25K). Lastly, I think it was a real linch-pin in the whole buildup. If it went well, it would make the rest of the workouts seem very doable and if it went poorly, it'd make the remaining work seem very daunting.
But, I've been very good at compartmentalizing each run this block and despite the 3am wakeup call and pitch-black start to the session, I tried to treat it as just another run and ignore all nerves associated. Luckily, Mother Nature had granted me a perfected day: temps in the low 50s, light winds from the north, clear skies. It was not even close to light out when I started my warmup.
I did an extra km of warmup (3K total) as I wanted to make sure the body was really up and awake before this one. Stashed two nuun bottles at the start/finish and took a (caff) gel after drills. Did 3x strides and 200m in about 36.
I started right around 6am and it was still quite dark but light enough to see where I was going. Jon had told me to "ease into it" and so I tried very hard to stay relaxed during the first 5K and felt fairly comfortable, coming through in 15'59, getting some nuun, and heading back out for loop 2, which felt just about the same, if not a bit better, and was quicker at 15'52.
Right around the turn around (taking some nuun and gel #1), I started feeling prety bad. I've often felt right around 8-11K or like 25-35 minutes, there is sometimes a real turning point in the workout. In retrospect, this appears to be reflected in the HR, as it seemed to climb pretty gradually but consistently until about 10km and then plateau in the mid 170s for most of the rest of the workout. I wonder if I'm crossing some phiosiological line where the HR gets to the point where it can remain at this long, steady effort and it's that crossing or increase that feels so rough.
Because once I got past that point (and I knew from previous sessions to expect it and hang in there), I actually felt much better. That 3rd 5K was slower (15'59) but the next one felt MUCH better and was 15 seconds faster (15'44) with the same avg HR (176). I think there must be something about getting to this point where the HR stops climbing as the rest of the workout felt great.
There were times in that 10-15K where I had some really bad self-doubt and just had to really trust that it was okay and I was going to be fine; and when I saw that it was still sub-16 and I hadn't slowed that much AND then 1K later I only had 12K to go (i.e. I now thought about the remainder as having passed 30K in the marathon), it was just like the mental tides had completely turned.
So, really that whole 10K from 15-25K felt fantastic and was the fastest of the day (15'44/15'50 for 31'34 (2'13'15 pace). Gel #2 at 20K and at that point I was just going 1K at a time, thinking of it like the end of a marathon. I got to 25K in 1'19'25 (just 25 seconds slower than my 25K time where I pushed very hard to HMP at the end) and tried to ramp it up just a tiny bit in the last 3K (one extra out/back). These were around 3'06-10 for 9'25 last 3K (HR got up to 182).
The total was 1'28'51 (3'10.4 avg; 2'13'54 pace).
This is definitely one of my strongest MP sessions every and I think maybe even better than the 25K despite being a tiny bit slower since I was a bit fresher for that run and really killed the last 3K there while this was much more steady. Plus, I did a fantastic job of overcoming that really tough patch around 10-15km and dealing with the pre-run nerves, super early morning, etc.
This is really unprecedented territory in terms of not just the way that workouts are going but more the overall consistency of training in the past 3-4 weeks. This is the most important time of the build-up and I'm on an absolute tear right now. If I can stay healthy and we get a fair weather day, I might just break 2h14 let alone 2h15. This buildup – particularly this block – is far and away stronger than where I was for Lake Biwa when I ran 2'16'06. If this momentum holds, I can't wait to see what December 3 brings.
Cooled down short ~1.5km. No strides/200s/XT today as I was in a hurry to get to the airport, but managed to get full ethio/rolling/ice bath.
Total run 34km
Splits:
5 km 15'59.6 (15'59.6) 167
10 km 31'52.1 (15'52.5) 172 (gel 1)
15 km 47'51.1 (15'59.0) 176
20 km 1'03'35.2 (15'44.1) 176 (gel 2), HM ~67'04
25 km 1'19'25.8 (15'50.6) 176
28 km 1'28'51.1 (9'25.3) 180
4pm: Easy shakeout in BOS pre wedding dinner. Easy shakeout – legs felt pretty beat from early morning and travel. Total run 10km in 50′.
Domingo, 22 de Octubre, 2017 – 9am: Lovely run with Jon and the CSU gang on Battle Rd. Great to be back and a perfect warm fall morning for running. Did the usual 20K loop nice and slow ~5'00/km and then finished with 6x strides on the dirt which felt great to open up. Legs were quite sore from yesterday's workout/travel double but much better by the end of this one. Total run 21km in 1h41.
2pm: Managed to sneak a nap and second run in somehow this afternoon before leaving for the wedding. Quite warm, in the 70s. Ran from the folks' house in concord out/back on Harrington. Finished with 4x strides on HPC. First day of CHO depletion but don't feel too bad yet. Limited by time today. Total run 12km- in 55'.